Troubleshooting: Nighttime Diapering
October 14 2010
We talk with parents all the time that have trouble getting their little ones through the night without finding wet jammies and bedsheets in the morning. We choose to use pocket diapers at night in our home because we love their stuffability. Depending on the diaper/brand/fit, we could use multiple microfiber inserts but we find hemp really does a super job without adding too much bulk. It is nearly impossible to use cloth diapers at night without ending up with a great big, puffy bottom, but hemp absorbs more in less space so even with a microfiber insert and three hemp inserts our little one's diaper is absorbent enough but still allows full mobility.
Our #1 recommendation for successful nighttime diapering is HEMP.
Then a few months ago, our son suddenly started soaking his diapers every night. We bought larger hemp inserts, but that didn't help. We thought maybe the diapers needed stripping, so we did that. We considered larger
diapers
but realized the microfiber inserts in most Large diapers are the same dimensions as the Medium diapers, so we wouldn't be gaining any additional absorbency. We were about to replace all of our microterry inserts with new ones when I found these: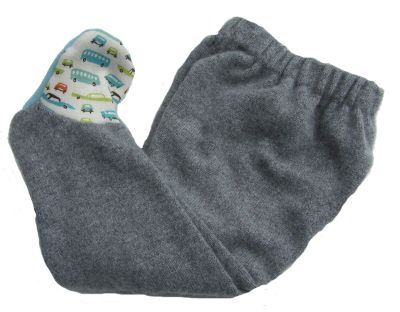 100% wool pajama pants (ours have a wool interlock waist) act much like a wool soaker - even over a pocket diaper. Wool absorbs up to 40% of its weight in moisture, wool is are breathable, and these pants are super comfy. And since he has been wearing his Woollybottoms Footies he has never woken up wet. Ever. We have just one pair which he wears only for sleeping. They are only very rarely damp when he wakes up, and after two months of continuous use have been washed once. I plan to get footies for our newest addition, as well as a few pair of shorties for summertime naps.
The new baby has incredibly sensitive skin, so we use prefolds and a wool soaker at night. In an effort to keep her more comfortable when she wets, we use fleece liners to act as a moisture-wicking material, much like what is found inside pocket diapers. And although they do not have a pocket, we can still boost our nighttime diapers with HEMP!
How?

Just put on the diaper (prefold, contour, fitted) and place the hemp insert(s) as the meat in a sandwich between the diaper and the cover (wool or otherwise).
With the proper tools, night time diapering is no tougher than daytime diapering. Be prepared to spend some time experimenting with different products and diaper combinations until you find the best setup for your child. And be prepared for things to change occasionally. Though he still wears his woolly footies to bed every night, his diapers are not nearly as wet in the morning as they were. For whatever reason, his heavy nighttime wetting phase has passed...for now, anyway...